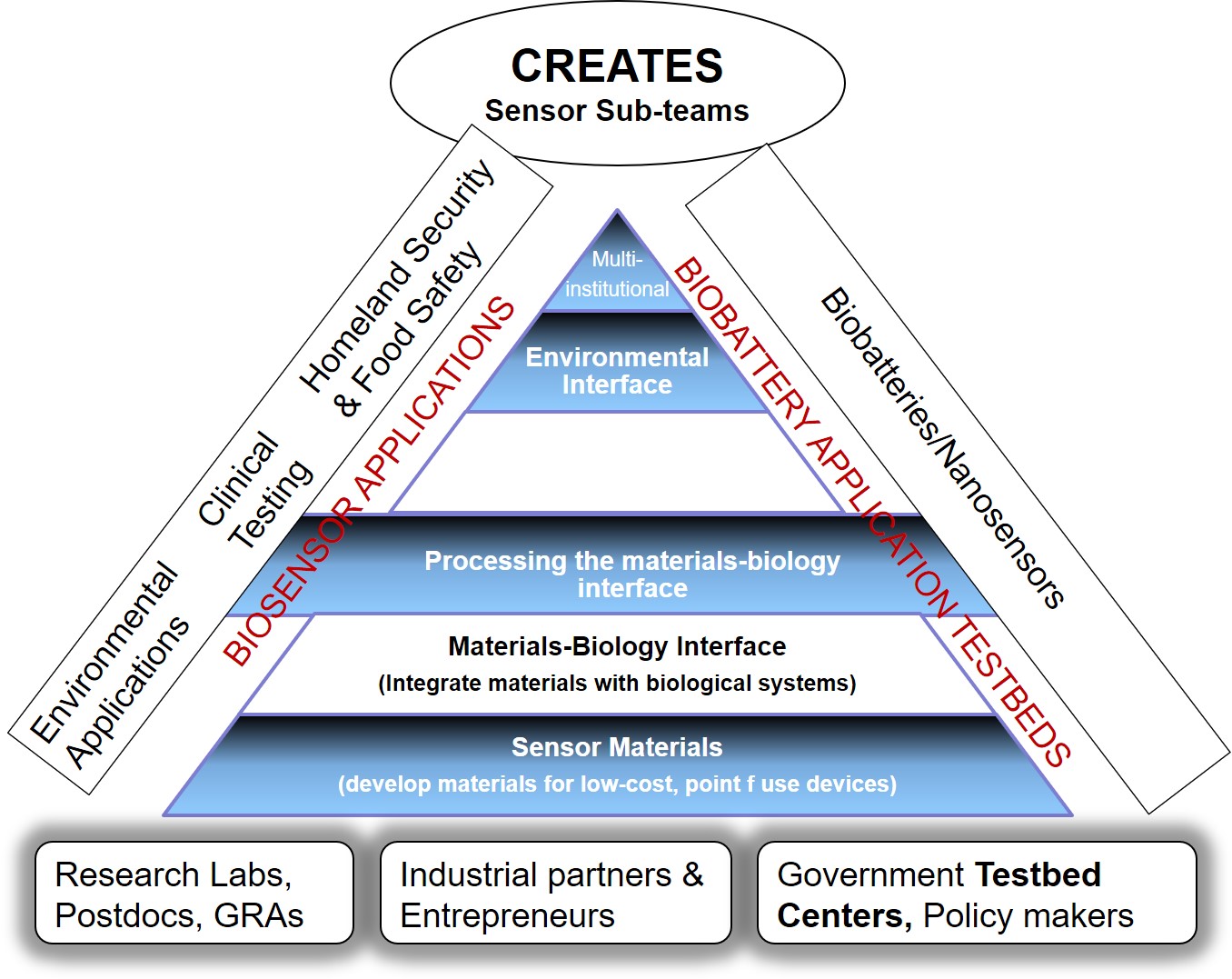 CREATES fundamental and technological research is focused on the development of all aspects of sensors, sensor systems and devices including acoustical, visual, chemical and biologically based sensor technologies and their applications for both civilian and military use. It strives to become a national leader in sensor research and training, as well as regional economic development hub. Research at CREATES emphasizes three aspects:

Fundamental research in sensors, sensor systems and devices including novel sensor designs, sensor materials, characterization, transduction, signal processing and laboratory testing.
While the development and application of sensor technology will be the main focus of the facility, modification, removal and rapid identification of man-made pollutants found in the environment will also play an important role. We envisage that technology-transfer companies will be developed solely for translating sensor research into the consumer market realities.
The overall goal of the research to be conducted at CREATES is the design and development of chemical sensors and biosensor systems including lab-on-Chip, microfluidics, and solid-state devices. CREATES will develop sensors and sensor systems that can identify, quantify, classify and remove chemical and biological warfare agents, man-made pollutants, and for identification of analytes that are of interests to environmental, clinical and security applications. Sensor techniques will include multiarray sensors, acoustic sensors, electronic nose technology, novel luminescent reagents that can act as molecular probes and sensors, flow velocity, fiber optic transducers, hollow waveguide sensor arrays, and the application of the sensors developed for monitoring biochemical warfare agents and toxic environmental compounds.
The multidisciplinary approach is designed to educate and develop Binghamton University¡¯s human resources at both undergraduate and graduate levels. Participating students will gain research skills that traverse traditional research boundaries in chemistry, biology, engineering and geological sciences with respect to sensor development. The Binghamton University has graduate programs in the disciplines represented and can therefore guarantee a consistent flow of highly skilled and motivated workers to carry out innovative sensor research and develop products. By the same token, the team will serve as a facility for M.S., and Ph.D. students who wish to enter the field of biotechnology and environmental analysis.
Projects
1. Low-cost Genotyping and Phenotying Biosensors (NSF: Sadik & Choi)
2. MEMS Repulsive Sensors (NSF: Towfighian & Miles)
3. Implantable Self-powered Load Sensors (NIH: Towfighian)
4. Microsized Microbial Fuel Cells (ONR: Choi)
5. Paper-based Sensing Array (NSF: Choi)
6. DNA Transport through Carbon Nanotube (NSF: Levy)
7. Tunable Nanoalloys for Catalytic Oxidation of Hydrocarbons (NSF: Zhong)
8. Extending a Large Multimodal Corpus of Spontaneous Behavior for Automated Emotion Analysis (NSF: Yin)
6. Pain Biosensors (Sadik)
7. Green Biobatteries (Sadik & Choi)